It's that time of year to reflect on the past and look toward the future. A lot of great stuff happened this year: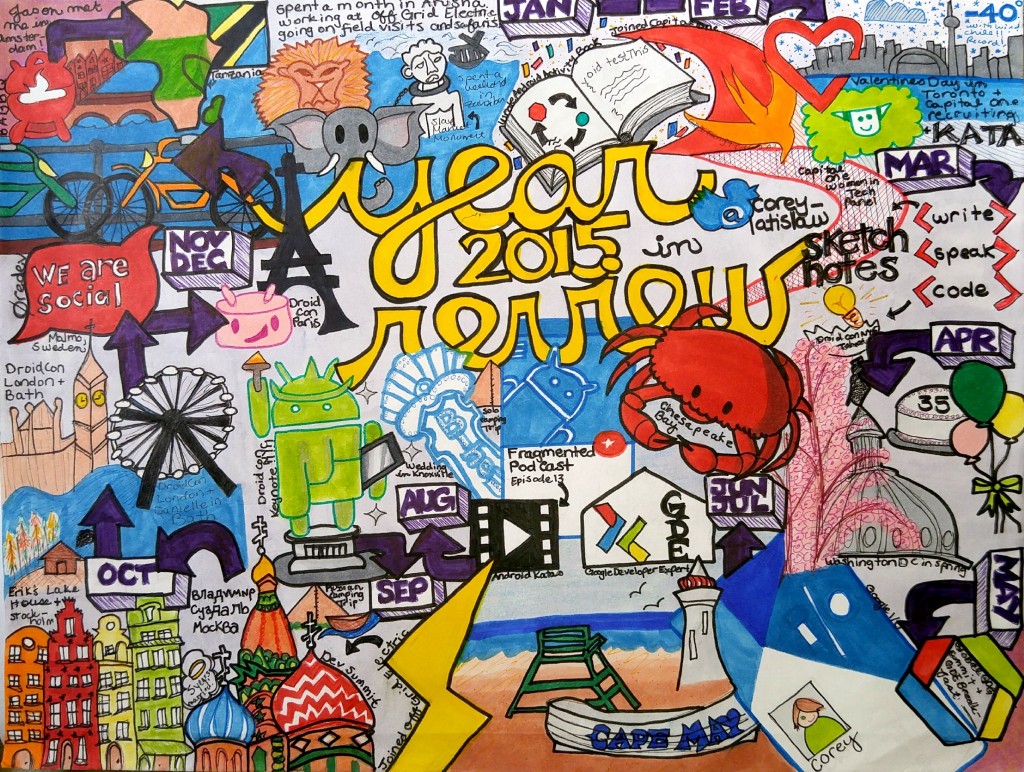 Personal
I turned 35 and celebrated 5 years of marriage. I experimented with the digital vagabond lifestyle, which was great in many ways, but I wish Jason had joined me.
I started sketchnoting and once videoed the process using Google Glass. To see my progression from my first sketch to the one above, check out my Tumblr.
Day Job
I joined Capital One at the beginning of the year and really enjoyed the job, but when an opportunity comes along that so closely aligns with your values — you can't turn it down!
In September, I joined Off Grid-Electric as their Android lead to solar power a million homes in Africa. I spent a fair amount of time traveling to met the team and get a better understanding of the operating environment for the application (details below).
Community
I joined the GDE program! I continued organizing (and being active at) Philly's GDG and appeared on the Fragmented Podcast (twice) as well as Android Dialogs.
Speaking
I spoke a lot this year! I gave my first keynote at DroidCon NYC and opened the conference with a topic I care deeply about — serving emerging markets using the Android platform.
In October and November, I went on a European conference tour and spoke at DroidCon London, Øredev in Malmö (Sweden), DroidCon Paris, and Big Android BBQ (Amsterdam). I also spoke at a local meetup in Stockholm.
In spring, I was on two panels. I spoke about being an author at Write/Speak/Code (where ChiuKi and I conspired to get more women to speak at DroidCon NYC) and gave my first talk to a room with more than 1,000 people at the Capital One Women in Tech Conference.
Publishing
I shipped two books on TDD (test driven development) in Android: Android Activity Book and Android Theory Book.
Later in the year, I created two katas and released a video series for practicing TDD. I gave workshops at Capital One and a company in Stockholm as well as DroidCon London and DroidCon Paris conferences.
Save up to $15 by using the code "YearOfTDD" on my videos and books!
Travel
I spent a fair bit of time in Washington DC and Richmond, Virginia to collaborate with other teams at Capital One. I even flew up to Toronto to interview Android candidates and spent Valentine's Day there with my husband (it tied for the coldest day on record at -40 degrees)!
I went to Cape May and the Chesapeake Bay to relax. I went to San Francisco for the GDG Summit, Google I/O, and connected with the GDEs after the conference. I helped friends celebrate their wedding in Knoxville and attempted solo camping in Hot Springs, North Carolina.
I went to Russia for an Off-Grid developers summit. The whole team worked from Vladimir the first week and went camping that weekend. The second week we spent in Suzdal. Finally, we spent a fun weekend in Moscow.
Next stop was Stockholm to visit my friend and we even checked out his parent's lake house. Then off to London, Malmö, Paris, and Amsterdam for conferences. Jason joined me for a few days in Amsterdam where we stayed at an AirBnB, saw Philly friends, and visited the Anne Frank House + FOAM photography museum.
Finally, I spent a month in Arusha, Tanzania. I celebrated an expat's Thanksgiving with co-workers and attended our company's first awards show. I went on safaris to 3 parks (Arusha National, Ngorongoro Crater, Lake Manyara) and went to Zanzibar just before heading back to the states for the holidays!