As you may have noticed, I've become a little obsessed with sketchnoting since I saw Chiu-Ki's notes from Write/Speak/Code. I tried my hand at the conference and later that week at Capital One's Women in Tech Summit.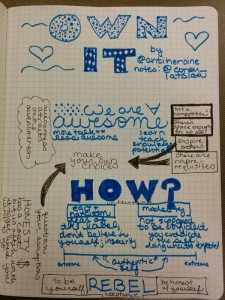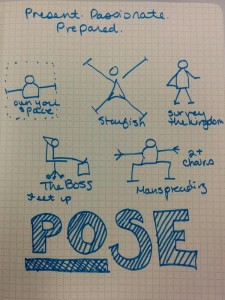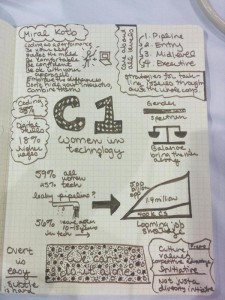 I decided to get serious about the medium and bought
The Sketchnote Handbook: the Illustrated Guide to Visual Note Taking
and
fancy pens
 in lots of colors.
The biggest hang up for me was how to structure my notes. Once I read about different formats, I feel much more confident in the notes I create. I give myself permission to start with a basic structure in mind and let the notes flow.
Outside of sketchnoting at events, while watching videos, and doing it for fun, I've been doing it at work. My work notes are usually pages of words (with an occasional diagram), but now they are transformed to a zine! It's not only made it much more fun, but helps me focus and gives me ample opportunity to practice new techniques.
My ability evolved markedly with a bit of practice and working through the exercises. Want to try your hand at it? Check out these great resources: