During my first CSA, I discovered that I HATED beets. It was the only veggie that I had trouble using before it went bad. I tried several different ways of eating it, but most recipes tasted "earthy" (aka. like dirt)!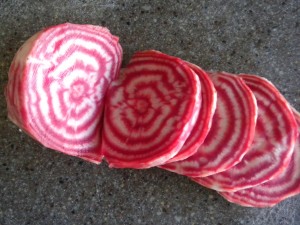 I had almost given up on them entirely until my parents visited for Thanksgiving a few years ago. My mother boiled beets in sugar and it was a hit!
Since then I've found that beets are quite versatile in both sweet and savory dishes. The following simple recipes will help you get started with this colorful vegetable.
Beets Boiled in Sugar
Add ½ cup sugar to water and bring to a boil. Add 1-2 cups beets and boil until tender (around 15-20 minutes). Drain and toss with butter, if desired.
Sauteed Beets & Onions
Chop or julienne 1 onion & 2 – 4 beets, heat pan, sauté veggies with 2 TBSP olive oil, and serve with salt and/or pepper.
Beet Fries
Peel & cut beets. Fry until crunchy. Drain on a paper towel or newspaper. Serve with salt and/or sugar.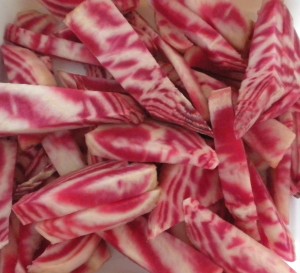 Beet + White Chocolate Chip Muffins
1½ cup flour
1 tsp cinnamon
½ tsp salt
½ tsp baking soda
1/8 tsp baking powder
½ c canola oil
2 eggs
1 cup sugar
1½ tsp vanilla
1 cup pureed or shredded beets
¾ cup white chocolate chips
If pureeing beets, add the oil to speed up the process. Mix all ingredients. Butter muffin or bread pan and coat with sugar. Bake at 375° for 50 minutes or until knife/toothpick comes out clean. Cool on a wire rack.
EDIT: Make that five! One of my favorite dishes from the honeymoon was from Paris. It was beet slices layered with chèvre and arugula (think beet sandwich) with a balsamic reduction.